On the few occasions I use Terminal in OS X the biggest problem I seem to have is being able to navigate the directory hierarchy and access files or folders. After struggling with getting the correct file/folder path I'm usually greeted with No such file or directory reminding me that Terminal doesn't like spaces in file/folder paths.
With that in mind here are a few ways to enter file/folder paths in Terminal.
For these examples I'm going to change the current directory from /Users/steve/Documents to /Users/steve/Library/Application Support using the cd command.
The first method is to enclose the file/folder path in single quotes…:

 
Steves-iMac-5K-27:Documents steve$ cd '/Users/steve/Library/Application Support'
Steves-iMac-5K-27:Application Support steve$
 

…or double quotes:

 
Steves-iMac-5K-27:Documents steve$ cd "/Users/steve/Library/Application Support"
Steves-iMac-5K-27:Application Support steve$
 

The second is to escape any space with a backslash (\). The backslash should be placed immediately before each space:

 
Steves-iMac-5K-27:Documents steve$ cd /Users/steve/Library/Application\ Support
Steves-iMac-5K-27:Application Support steve$
 

If the file or folder exists in the current user's home folder we can use ~/ as shorthand to denote the user's home folder:

 
Steves-iMac-5K-27:Documents steve$ cd ~/Library/Application\ Support
Steves-iMac-5K-27:Application Support steve$
 

If we want to use quotes, the opening quote must come after the ~/ shorthand:

 
Steves-iMac-5K-27:Documents steve$ cd ~/'Library/Application Support'
Steves-iMac-5K-27:Application Support steve$
 

The one I use most though, because it is perhaps the easiest, is to locate the file or folder in the Finder and drag it to an open Terminal window: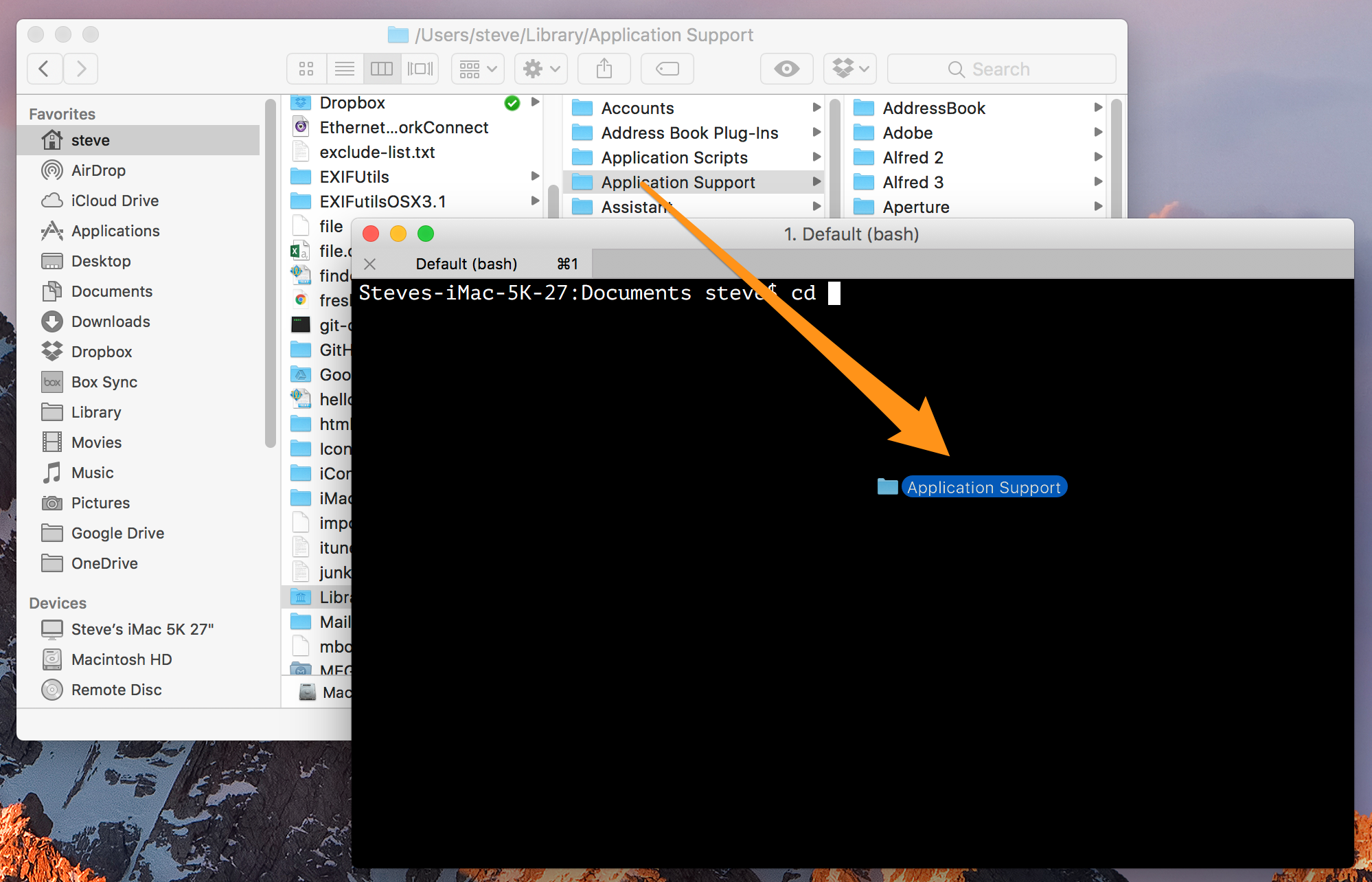 The full file/folder path is copied at the Terminal window's current cursor position: